Learn how to solve life's problems without medication
Unlock the healing power of the brain
We can address ADD or ADHD, autism spectrum disorder, anxiety, bipolar disorder, behavior disorders, depression and learning disabilities by regulating your brain function. Learn how neurofeedback therapy can help exercise, strengthen and calm your brain while improving its stability and flexibility.
Appointments: Our staff is always ready to help with you scheduling, insurance or anything else you may need during your time with us. We will take extra care to listen to your concerns, answer all your questions and thoroughly explain your condition and treatment options. To schedule an appointment, please call us at 215.321.9502 you can use our online Request an Appointment form.
If at any time you are unable to keep your appointment, please notify us. We will be glad to reschedule your appointment at a more favorable time. We greatly appreciate your time and consideration and look forward to seeing you.
New Patient Forms: If you have made your initial appointment, you can preregister by clicking on the links below to download our New Patient Forms. Please print and complete the forms prior to your arrival. This will help to speed up the new patient registration process.
Insurance: We accept most insurance plans. We are out of network with most insurances. But we also have a cash plan available. Please call us to verify whether or not we are participating with a particular insurance company.
Billing and Financial Responsibility: Please call our office if you have any questions regarding an invoice and we will be happy to assist you.
Experience the wonderful benefits of neurofeedback. Call us at 215.321.9502 with your questions or to schedule your visit with us. For your convenience, you can use our online Request an Appointment form.
An effective form of biofeedback. HRV training, incorporating diaphramatic breathing and mindfulness, helps the individual self-regulate breathing and heart rate. This results in healthier mental, emotional and physiological states. It is a tool that the individual can use frequently in order to maintain calm, despite life's trials. A combination of psychotherapy, neurofeedback and HRV will help individuals achieve very effective levels of self-regulation, control and balance.
Clients are counseled through their entire treatment process to cope with past, present and future concerns. Generally, positive life changes and decisions result from the combination of neurofeedback and psychotherapy.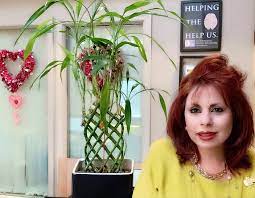 Welcome to our Practice....... Donna is the first person to greet our clients and new inquirers. Donna comes to us with many years of experience in professional service to others. Her gracious and helpful vice is welcoming and often reassuring to anyone who calls.
Going beyond expectations, she prepares everything for clients that facilitate initial visits and intakes, accurately ensures and maintains appointment schedules, as well as carefully managing and securing all office records. Her professionalism ensures everyone's needs that are presented to her are met and properly processed.
As our ambassador to the public, she continues to make everyone feel welcome and their needs important, thus ensuring that all matters are met with the prompt professional attention and gold standard of service they deserve.
March 2023
My experience with the Achievement & Wellness Center has been very productive and positive for me. The neurofeedback therapy and the enlightening qEEG results have provided me with unique and compassionate healing. I have made significant progress with my panic attacks, depression, and OCD and would strongly recommend the center to others-especially those who have had negative experienc with talk therapy.
-Anonmyous<
---
March 2023
Achievement & Wellness has been a life raft for coping with my relationships and grief. I am so grateful!
Linda S.
---
January 2022
Neurofeedback has changed my life! I am a happier person and enjoying life and my family so much more. I am in control with my emotions.
~Linda S.
---
August 2021
I owe a debt of gratitude to Dr. Di Donato and her staff at The Achievement & Wellness Center. Neurofeedback, as administered by Dr. Di Donato and her team has had a permanent, positive, and life changing effect on my life. I'm 69 and have lived with chronic physical issues, as well as emotional challenges, most of my life. I believe they stem from early infancy and childhood trauma. All my adult life I've searched for relief. Nothing has been as effective as the Neurofeedback I received at the Achievement & Wellness Center.
I'm feeling like a new person-more stable, confident, relaxed & trusting of myself in ways I've never experienced. I'm deeply grateful to you all-such a friendly, supportive and always cheerful and pleasant to work with.
Thank you from the bottom of my heart!
~Tace
---
January 2021
"V" has check-ins with his student counselor a few times a month during the school year. She noticed his eye-contact while they were on their call this week. She was impressed by his focus and eye contact and specifically made mention to both. She did not know that "V" has been coming for neurofeedback.
~Name Withheld
---
February 2020
Before Dr. Di Donato and Neurofeedback: I had difficulty holding a job, I did not now that I was not processing my emotions, I did not have a sense of self, I kept re-living my childhood trauma, I was binge eating.
With Neurofeedback, Dr. Di Donato and her team: I changed careers, have been working for 5 months and have already received a promotion, I learned how to process my emotions, I learned to not take everythig personally, I have a sense of self, I feel like I can anticipate triggers so that I can effectively NOT react to them, I am no longer binge eating, I am on the path to becoming fully independent.
I have been in all kinds of therapy since college. After over 20 years of unsuccessful therapy, Dr. Di Donato was immediately able to actually help me understand what my core issues are, and has successfully guided me and counselled me on the right path to no longer being a prisoner of my trauma or my emotions. I am so grateful for everything Dr. Di Donato and her team have done for me. Dr. Di Donato, Erica, Janine & G are always coming up with different strategies to help me improve myself & become more self-confident. Donna is so helpful with appointments & scheduling & ALWAYS greets me with the brightest smile. When I walk in to the office and see Donna, I am reminded that I am in a safe place where I can grow and flourish as an individual.
Thank you
~AJ
---
September 2019
Neurofeedback has helped me immensly get through one of the most difficult transitions of my life so far; post high school I struggled with knowing the next teps in my gap year. Neuro has guided my brain and body in becoming more expressive as well as more motivated to complete my aspirations. I am beyond grateful for the way Achievement & Wellness has revitalized me!
~Liana
---
December 2018
The therapy our nine year old son is receiving from Dr. Di Donato at the Achievment & Wellness Center in Yardley, PA has helped bring about so many changes that I don't even know him anymore. He came to Dr. Di Donato with multiple issues; RAD, ADHD, and learning disabilities. He was unable to focus, sit still, carry on a conversation, read, perform multi step tasks and was angry, frustrated, self loathing and sometimes physically abusive especially to his brother. This was fairly frequent and the stress it caused all members of our family was difficult to deal with. Medication only made his behavior barely tolerable. Upon recommendation of a friend, we brought him to Dr. Di Donato. She was able to accurately diagnose him and began treatment. Slowly we watched these behaviors improve as Dr. Di Donato and her amazing staff focused on different aspects of his issues with the neurofeedback therapy. Lately his progress has accelerated and he is sitting at the dinner table engaging in conversation, tying his shoes, dressing himself, and getting himself ready for bed. He is making friends and learning at school and is making incredible progress with his reading. Just this week three people have told me what a great job he did with them, well behaved and engaged. We're certainly not used to hearing that. He is now a happy, funny, loving, self confident, and adorable boy. It has been such a joy to watch the wonderful boy that we knew was in there emerge. We have been able to reduce his medication significantly and will be able to eliminate it by the end of his therapy. We are so grateful for the dedication of Dr. Di Donato and her staff to fixing the brain instead of band aiding with medication. Because of this our son is now capable of having a much brighter future and our family can look forward to much happier times together.
~Name Withheld
---
I am sleeping soundly on a consistent basis-the first time since Chilhood! Thinking is clear. Thank you, Dr. D!
-Name Withheld
---
Dear Dr. D.,
I recommended your services to my friend because I believe in what you do. I've been doing well. Thank you for all you've done to help me.
Sincerely,
T.
---
I have been under the care of Dr. Di Donato for the past several months. I have experienced positive results in battling anxiety and depression. My mood is lifting and I feel less anxious. I deal with stressful situations in a calmer demeanor. If anyone is considering this treatment, I would not hesitate to give it a try.
-Name withheld
---
I started my treatment in October, 2013 and have been a patient over a year. Since that time, treatment with Dr. Di Donato has helped me progress thoroughly through many obstacles. I have overcome school, anxiety and other issues.
I feel that many people would benefit from this treatment. I feel as an individual that the treatment of Dr. Maria Di Donato has helped me progress towards success. Before I started treatment with Achievement & Wellness Center, I could not see in front of me. Now I have a clear vision of life and see things not seen before. Now in 2015, I am completely changed and reborn. I graduated with an Associate's Degree in Computer Technology and I have a more positive outlook on life and more hopeful for events to come.
Thank you Achivement & Wellness Center.
-J.S.
---
Neurotherapy is a breakthrough in psychological sciences. With it I've been able to control my bipolar mood swings, gained more attention of my surroundings, and I've become less depressed. It has also had a huge effect on helping me quit smoking. 80 days smoke free and counting.
- Anonymous
---
Neurofeedback is very helpful to me and my emotions. When I come a lot (2x a week), it helps me feel better. I feel less anxious and depressed with the help of Neurofeedback. I feel like I concentrate more, which helps me focus in areas I need to, instead of ones I don't. Coming to receive neuro has made me a better person. I look forward to coming every week because I like improving.
-Anonymous
---
"Before I discovered NeuroFeedback treatment, I had suffered from anxiety and depression. My grades were only getting worse with time and there was never an easy night of falling asleep. Now after one year of treatment I have brought my grades up to an A average and I never experience trouble going to bed at night. I have completely come off of my antidepressant medication in the time I have been in treatment. NeuroFeedback had significantly changed my life in just my first few months and I strongly believe that with the right attitude, it can help just about anyone."
-Jenni
---
"I had been suffering from anxiety and depression all my life. In the past ten years, this started having an effect on my physical well being. With my immune system severely compromised and a myriad of other health complaints. I was thrilled and amazed that by non-drug treatments; Dr. D was able to help me. By correcting the source of anxiety, depression and irritability, this is the first year where I have not needed to be on several rounds of antibiotics for infections and my resistance to colds has greatly improved. I am much more productive at work and I can actually enjoy life in my time off. Thank you!"
-Anonymous
---
"My first experience with Neurofeedback came as I searched for a way to help my daughter with her ADD. She and I were both amazed at how quickly the sessions helped her with her focus, and behavior. Later, I broke two vertebrae in my back and was surprised to find Neurofeedback could also be used for pain management. Within a few sessions I was permanently off Vicadin. For the remainder of my recovery I was pain and drug free. It wasn't long before I noticed an added benefit, my mood also improved. I was calmer, happier and less affected by outside stresses. I am a strong supporter of this program and very thankful to Dr. Di Donato and her belief in its value."
-V.S.
---
I've had bipolar disorder for as long as I can remember. I've always had problems in school and with basic functioning because of it. So I tried therapy, many different drugs and none of it worked. I eventually gave up. I had a string of unhealthy relationships, dropped out of high school and couldn't hold a job. My grandmother told us about Dr. D. and I decided to check it out. A few months after I started seeing Dr. D, I was able to end the unhealthy relationship I was in and get my GED. Now I have a job I've been at for almost 2 years and I'm engaged to a wonderful man. I wouldn't be where I am if it weren't for Dr. D. My life is on the right track and I can never thank her enough for that.
-Danielle D.
---
"I used to have severe anxiety and have much trouble falling asleep at night. I also had tremendous restlessness in my body and especially legs-keeping me awake for hours and pacing. Neurofeedback has really helped with my anxiety and especially my restlessness. I can now fall asleep easier and sleep better. Dr. D. has really helped me."
-Anonymous
---
"Dear Dr. DiDonato & Staff... Thank you for all your help. Our daughter just keeps doing better & better, amazing us at every turn. We owe it all to you. Happy Spring & Happy early Easter time!"
Love, (Name withheld)
---
"I am so thrilled with the results I am seeing! When my daughter started, she was failing all her classes & threatening to quit school. Now, she's carrying all C's & finished classes early! She will be graduating on time in 2 weeks! We have reached the point where we were able to reduce one medication in half! The goal-to eliminate the medication. This all happened within 20-30 minute sessions!"
-Anonymous
---
"After years of trying other types of therapies and counseling we are so happy to finally see our children make progress and move in a positive direction socially and academically."
Anonymous
---
"Our son presents with Attention Deficit Disorder (A.D.D.). Since beginning Neuro Bio Feedback we have noticed many changes in a short period of time. His memory has improved, and he has not been "staring into space". He appears to be more"intuned" to conversations, and other things going on in his environment. While he has always done well in sports, his skills, and overall coordination appear to be "sharper". He has stopped taking his medication for A.D.D. and is functioning well academically in the classroom. We are thrilled with the changes we have seen, and look forward to many more positive results from Neuro Bio Feedback."
-Mrs. M.
---
Our experience here with Dr. Di Donato and staff has been life changing for our daughter whom has high functioning Autism. I as a mother of two girls am so happy for how it has improved every aspect that we were concerned about when we first came here well over a year ago. It has improved her life tremendously and our lives together as a family. For example, she could not really understand a conversation or hold one until this therapy, she could not draw until this therapy and then won an art contest at school and loves drawing and has a hidden talent. She could not let me wash or dry or brush hair without screaming before neurofeedback, now none of that is a problem and she takes a shower too. She never wanted to hug or kiss or play with or even talk to her sister, now she wants to sleep in her bed and plays with her, hugs & kisses her and and us too.
Thanks to everyone here for changing our daughter forever for the better. This is the most amazing therapy I have ever had the privilege to witness and feel.
-L.L.M.
---
Neurofeedback has been a large component of my recovery. 1 1/2 years after my concussion, I found Neurofeedback. I very quickly noticed a complete change in my functionality, migraines, anxiety, and chronic pain. I feel like myself again-- something I wanted so badly. Dr. DiDonato helped me feel like a typical 20 year old college student and I would 100% recommend coming here.
- Anonymous
---
I was introduced to Dr. Di Donato at a workshop in May 2015. Her passion and knowledge compelled me to seek treatment with her for my son. My son has been diagnosed with ADHD, anxiety, and mood disorder. Medications and intensive therapy were not helping my son with his severe behaviors. During our first meeting, Dr. Di Donato was confident that she could help my son, which in turn gave me hope and excitement to start treatment. My son has been seeing Dr. Di Donato since June of 2015 and I have seen significant changes. My son is now only on 1 medication,, has been more focused at school, severe behavior outbursts have almost distinguished, and he just seems to be happier! I personally feel relieved, and I am extremely impressed and proud of his achievements. I can enjoy a more 'normal' life, without stressing when my mobile phone rings during school hours. I can't say enough about the positive experiences we have had working with Dr. Di Donato and her staff.
-T.R.
---
Dr. D has saved my life. I was suffering from anxiety. It had halted my life and I was no longer to function daily. Since working with her, I am able to drive by myself and go out in public. I am still in recovery but have complete faith that soon I will be functioning better than I was prior to the anxiety.
-Lynda
---
I found neurofeedback to be most helpful for anxiety and mild depression. Most importantly, positive progress was achieved without taking drugs.
-Anonymous